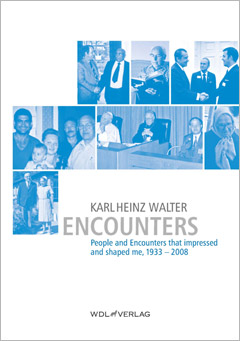 Karl-Heinz Walter
Encounters
People and encounters that impressed and shaped me
(Bd. 29)
My life covers a turbulent period of history from World War II to the time following the collapse of the iron curtain in Europe and its repercussions to this day. The book is a report about people and encounters from that period. As to myself, I was born in Hannover in 1933. In 1952 I graduated from the humanist Goethe Gymnasium in Einbeck. At Easter 1948 I was baptized in the Einbeck Baptist Church. I then trained to become an insurance trader. I have been married to Edeltraud (Traute), nee Karsten, since 1958. We have one daughter and three sons. The eldest son died of leukaemia in 1974, at the age of 14. In 1995 I was awarded the Doctorate of Divinity by the Furman University Greenville, SC. USA.
Professional history of the author
Theological studies in Hamburg (1955 – 1958). Youth Pastor in Westphalia (1958 – 1964). 1964 to the end of 1968, Pastor of the Evangelical Free Church in Minden. Called to lead the youth work of the Baptist Churches in Germany, (1969 – 1978). Chairman of the youth committee of the Baptist World Alliance, (1970 – 1975). Pastor for 11 years of the Evangelical Free Church in Bremerhaven, Concurrently performing several honorary leadership activities within the Union of the Evangelical Free Churches in Germany. During the radical changes in Europe following the fall of Communism, I occupied the positions of Secretary-General of the European Baptist Federation (EBF) and Secretary of the Baptist World Alliance (BWA) for Europe and the Middle East from 1989 – 1999. Retired since 1999. Advisor to the Union of Baptists in Georgia. In these capacities I met people in all parts of the world who have impressed and moved me. In addition, I met personalities who carried high responsibilities in the world, and also others whose names have never been made known to me or which I no longer remember. All these people left their mark on my life. I have talked of my encounters on various occasions and have been requested to write down my experiences, so that they are not lost. That is the purpose of this book.
96 Pages
Price: EUR 12,00
ISBN 978-3-86682-143-9